The agony of losing a loved one touched Miguel at an early age. He was seven when 'Chaco' the puppy he'd walked and snuggled with all his life took his last breath. The emotions and deep pain associated with loss affects people in different ways, and creating a space for healthy mourning can help with acceptance and moving on.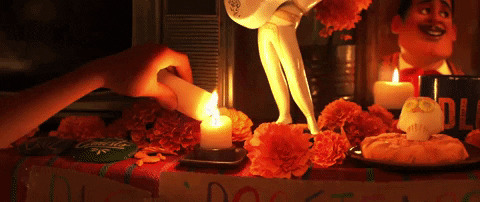 Death and loss is inevitable and all around us, which is why traditions like Día de Muertos create such a powerful impact. Día de Muertos can be a valuable tool for healing, especially when a child loses an important person in their life, like a parent.

This indigenous tradition that dates back 3,000 years and was once celebrated for a whole month, invites the spirits of the deceased to return to their families on November 2nd. Families set up an altar, or ofrenda, with favorite foods and objects the departed souls enjoyed during their life.
To help kids (and adults) mourn:
Set up an altar with fresh flowers and candles,
Place a photo (or drawing) of the deceased loved one, along with objects and food they loved,
Set a time to light the candle, eat the food and share stories of your loved one's life (which also includes pets, like Miguel's puppy).
The tradition allows the living to share stories and memories of the dead, play their favorite music and prepare the meals that brought them joy when they had flesh.

Dia de los Muertos film
This type of remembering helps the living mourn, speak the things that were left unsaid, and rejoice in beautiful memories. This way, we keep our loved ones alive when we share and relive memories every year.