Pulso is a digital media news, culture and entertainment social enterprise by Latinos, for Latinos, dedicated to keeping the pulse on nuestra gente.

We build deep digital relationships with a growing subscriber base of more than 475,000 Hispanic and Latinx people across the United States. Through culturally-relevant news and features that reflect our community's various experiences and contributions, we work to increase the political power of the projected 32 million Hispanic voters by delivering news and stories -via Facebook, Instagram and Twitter- that will help them stay informed, entertained and empowered where they're spending most of their time: on their phones.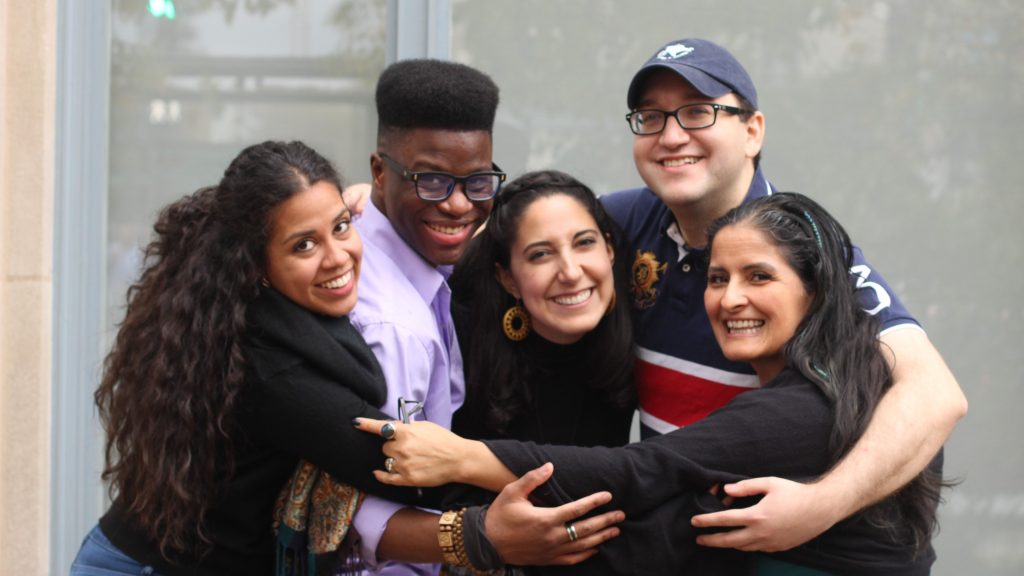 Team
Liz Alarcón
Founder & Director

Josefina Casati
Editorial Director

William Sullivan Angulo
Program Manager

Jayson Conyette-James
Technology Associate

Lisann Ramos
Content Writer

Cynthia Maldonado
Program Associate
Editorial Team
Editorial Director: Josefina Casati
Josefina Casati (she/her/hers) is Pulso's Editorial Director. She is an award-winning journalist and a longtime newsroom leader in Texas and California. Previously, she led the Spanish-language publication ¡Ahora Sí! in Central Texas to multiple national awards, and received international accolades for collaborations with Univision and the Austin American-Statesman. Her start in journalism was at the Press Democrat, in Santa Rosa, California. Before joining Pulso, she was a content and strategy consultant for various nonprofits and small businesses, and adjunct professor in the Journalism Department at the University of Texas at Austin. She and her husband live in Austin, Texas with their son, daughter, dog and cat.

Content Writers: Lisann Ramos
Lisann Ramos (she/her/hers) is a Content Writer for Project Pulso. She is a Cuban American writer, producer, and reporter. Her career began in media at WPBT, South Florida's PBS station, on one of their local arts programs. Later, she worked at WLRN, South Florida's NPR Station, covering local and national stories as a radio reporter, producer, anchor and social media producer. She's been the coordinator of an oral histories project for HistoryMiami Museum, called Miami Stories, and also produces a podcast called Now That We're Friends for O, Miami. She lives in Miami, Florida, where she was born and raised.

Content Writer: Christine Bolaños
Christine Bolaños (she/her/hers) is a Contributing Writer for Pulso. She is an award-winning freelance writer based in Austin, Texas. The 2016 International Women's Media Foundation fellow reported on women's development and rights in El Salvador. She covers government, education, human interest features and business for numerous international, national and local outlets. The proud Salvadoran-American's work has most recently been published in NPR's Latino USA, Fusion, News Deeply, LATINA Style Magazine, Cox Media Group, and The Crime Report. She is a first-generation college graduate with a Bachelor of Arts in political science and journalism from Baylor University.

Designer: Jayson Conyette-James
Jayson Conyette-James (he/him/his) is Pulso's Digital Designer. He is a designer, developer, and strategist, dedicated to building holistic and authentic user experiences. His career began managing digital presences in his hometown of New York City, from which he still primarily operates. Having previously worked on educational and political campaigns, he is deeply passionate about current events, politics, and how our communities are best informed to make the decisions required to empower and educate themselves.
Policy
Pulso's Ethics Policy:
Pulso's Statement of adherence to journalistic standards, including truthfulness, fairness, integrity, independence, and accountability.
Project Pulso is a nonprofit organization providing independent reporting and commentary on issues important to the Latinx community. We were founded in 2018 with a mission of building deep, digital relationships with our subscribers through culturally-relevant and inclusive news and articles that lift the contributions of nuestra gente. One goal of empowering our readers with inclusive news and information that allows Latinx stories to be the focus is to encourage action on critical issues, and inspire civic engagement. In both our reporting and our commentary, at Pulso we value accuracy, present facts fairly, and aim to provide news coverage that is reflective of and relevant to our communities.
Pulso's Fact-Checking Policy:

Pulso's writers and reporters use their discretion to conduct their own fact-checking, and are expected to follow journalism ethics in their information gathering. They independently verify all facts in their stories, with the understanding that the news and information we share has a direct impact on our community.

Reporters and writers are expected to be precise with the work they submit, including their wording of content, headlines, and URLs. They are expected to exercise at least basic journalistic guidelines to verify information they gather, and seek out diverse and reliable sources. This expectation applies to factual statements and accounts, identifying information, names and positions. Reporters conduct their own fact checking using their own judgement, and Pulso will use fact checkers in circumstances deemed necessary.

Pulso's Correction Policy:

In the event of substantive errors to our original reporting, Pulso will change the piece and note the correction (and the reason for it) at the end of the article. In the case of larger alterations to a piece, which may fundamentally change the story, Pulso will add an editor's note to the top of the article, explaining the change (and the reason for it).

Contact