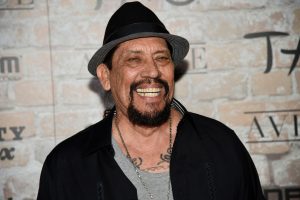 Actor Danny Trejo is hailed for portraying tough villainous characters in Hollywood, but it turns out Danny is even more hard-core in real life. Using quick thinking and his "superpowers," he saved a boy from a flipped car. 
i have a theory that danny trejo is the most beloved man in LA and this only confirms it https://t.co/qMITFhYJto

— Claudia Koerner (@ClaudiaKoerner) August 8, 2019
It all started when Danny was on his way to drop off his 1965 Buick Riviera for repairs and happened to see the driver of a sedan on the road next to him run a red light and hit a Ford Explorer. The silver SUV flipped over after the collision and the Machete star swiftly jumped into action by helping the mother pinned behind the crushed driver's door. The hysterical mother told Danny and another bystander that her child was still trapped in his car seat. 
The 75-year-old California native and the other good Samaritan unbuckled and freed the child. Then Danny realized the boy was special needs and was panicking. Using skills he's learned working with special needs kids, Danny distracted the young boy as firefighters worked on freeing the boy's grandmother, who was also trapped in the flipped car. Danny told the boy, "we have to use our superpowers," and the boy screamed "superpowers!" The duo yelled "superpowers" again and again until the grandmother was freed from the vehicle 👏🏽
Danny, who went from a California prison inmate to a popular Hollywood bad guy, was surprised that his actions went viral. Heroic acts like Danny's remind us to see and seek the good around us.