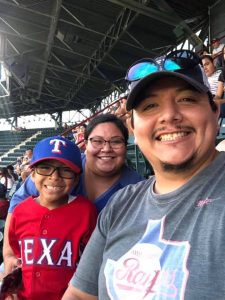 The Romeros are avid fans of the Texas Rangers baseball team. Watching games live at Globe Life Park in Arlington is a fun family affair for them, but mere hours after the news that a domestic terrorist claimed 22 lives in El Paso, this Latinx family became victims of a bigoted man who didn't want them there. 
Jessica Romero, the wife and mom in the family, says the man sitting in the row above them loudly complained about having "illegals" sitting near him. The man was pictured in the family's selfie making an obscene gesture. One Latinx boy sitting behind the man apparently pushed the man's seat, so he threatened to "kick Speedy Gonzalez all the way back to Mexico."
He then loudly said that Trump "needs to hurry up and build the wall and send all those illegals back."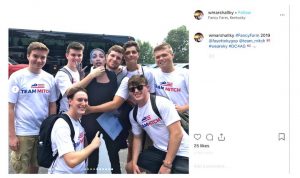 In another recent incident, a group of young men wearing Senate Majority Leader Mitch McConnell t-shirts posed for a photo smiling as one of them pretended to strangle a cardboard cut-out of Rep. Alexandria Ocasio-Cortez. Discrimination and bigotry is being normalized and justified by many politicians right now. We'll continue to call it out, because this divisiveness is not welcome in our country.