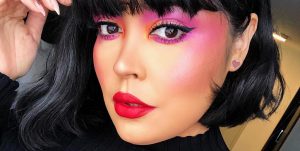 Have you ever pictured yourself with Rihanna's round-the-clock glow or lusciously vibrant lips? While the musician no doubt has natural beauty, her traffic-stopping looks are greatly enhanced by the work of Mexican American makeup artist Priscilla Ono.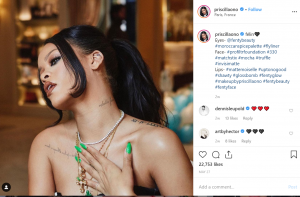 Priscilla is the global makeup artist for Fenty Beauty cosmetics line, and Rihanna's go-to makeup guru. The granddaughter of Mexicans says this is her dream come true.
Growing up, her family was adamant she pursue medicine, but Priscilla had a different, bigger and bolder dream.
Priscilla Ono promoting Fenty beauty
Her grandmother was her greatest beauty inspiration as a kid. Priscilla found herself sneaking into her abuela's makeup bag when no one was looking.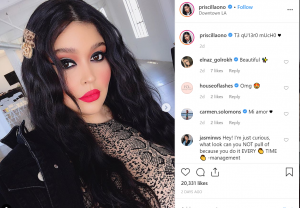 Fast forward, and Priscilla's big break came when her now-husband asked her to do makeup for Dawn Robinson's music video from En Vogue.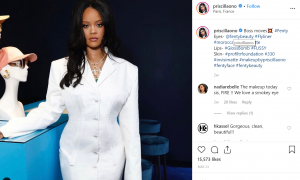 That video was Priscilla's epiphany. Until then makeup seemed like fun on the side, but from that moment on, makeup was a real and viable career.
Her abuela was so upset at Priscilla's decision to drop out of college to pursue beauty, that she stopped talking to her for two years. But when she saw how happy Priscilla looked during a television interview, her outlook changed.
Now, Priscilla is moonlighting as a fashion designer with the launch of her plus-size line Priscilla Ono x Eloquii. Ladies, she even added pockets to her clothing for 💄maquillaje!
Keep an eye out 🙌🏾 we'll be seeing much more of Priscilla in the fashion world!