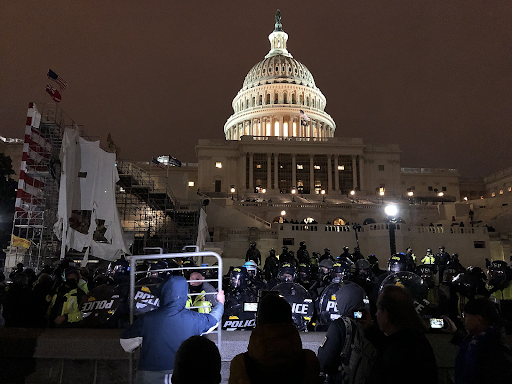 Riots at the capitol drew attention and outcries last week, as violence and chaos sowed fear of a threat to the U.S. democratic process. While many Latino organizers and lawmakers condemned the riots, in part incited by Donald Trump, some local-level California Latino politicians have been scrutinized for being in the crowd at the Capitol Riots, in which five people died.
Leandra Blades is one of these local appointed officials in question. She's a Board Member at the Placentia-Yorba Linda Unified School District (PYLUSD) in Anaheim, California. Now, along with at least two California officials, almost 8,000 people have signed a petition calling for her to step down from her position as a Board Member.
"Election fraud has been disproven ad nauseam," reads the petition. "So, for a school board member to attend to show her discord about a legal election, despite all evidence and information that proves a fair election, shows bad judgement and calls into question her ability to evaluate information and make decisions regarding the district."
Blades defended her position and her right to be at the riots during a live interview with far right author and CBD developer, Andy Falco Jimenez. However, she denies entering the Capitol or participating in the violence.
The conflict playing out in the PYLUSD is echoed in other communities in California, including in Whittier, where Councilwoman Jessica Martinez is facing similar probes after traveling to Washington last week and uploading a video from the rally.
An online petition to remove Martinez from her position has racked up close to 7,000 signatures, as of Friday morning. The petition is titled, "Domestic Terrorists Have No Place on the Whittier City Council" and includes language that characterizes the riots as a "violent, armed coup attempt on Capitol Hill."
The participation of these officials in this insurrection against federal lawmakers is opening a broader conversation around how to hold community members accountable for their actions. It's also shedding light on the fact that Latinos range widely on the political scale. While mainstream media sometimes prefers to paint Latinos as a liberal monolith, for the last three decades, about 30% of Latinos have consistently voted for the Republican party.
The inner-community tension also plays out in the political sphere. Progressive Latino politicians like Rep. Jesús "Chuy" García and Joaquín Castro took strong stances against the January 6 actions. García described seeing people parading the halls of Congress with Confederate flags as "repulsive." Castro further drew a line in the sand against other fellow federal lawmakers, including Latino Republican, Ted Cruz, calling him to "immediately resign." He believes Cruz enabled the mob by fueling myths of voter fraud. Representative Alexandria Ocasio-Cortez also chimed in, tweeting to Cruz, "Sen. Cruz, you must accept responsibility for how your craven, self-serving actions contributed to the deaths of four people yesterday."
It's still unclear whether or not the public will generally allow representatives of local governmental organizations to hold their position after being part of the riots. Yet, the outcome will certainly set a precedent that can affect the political landscape for years to come, and bring to light the divisions in Latino politics.