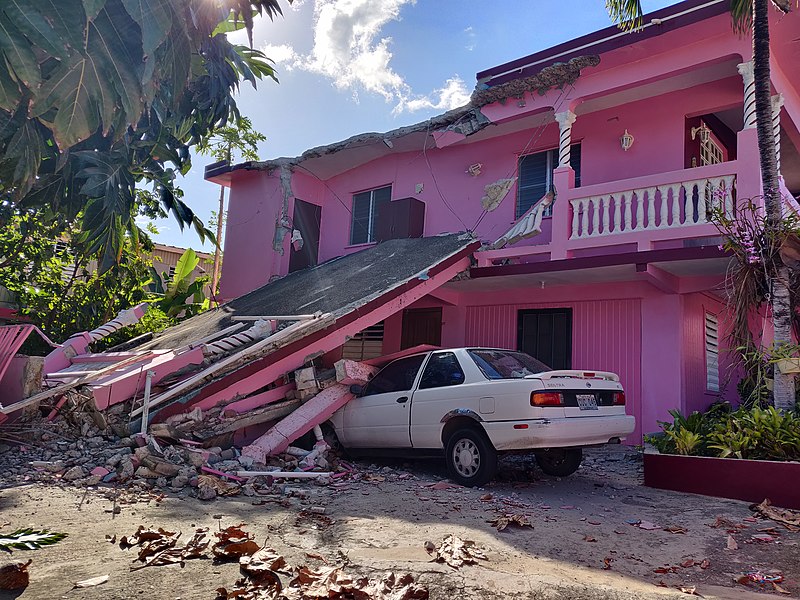 Puerto Rico was rattled by a 6.4 -magnitude earthquake Tuesday morning. The shake caused infrastructural damage to the US territory, and one death on the southwestern coast of the island including Guánica, Guayanilla, and Ponce.

This quake was the largest in a string of several over the past few weeks, including a 5.8 magnitude quake on Monday, in a natural phenomenon that the Scientists for Changing World have characterized as Puerto Rico being squeezed between the Caribbean and North American tectonic plates. Scientists also hypothesize that this event will trigger more "after-shocks", although an initial Tsunami warning has been removed.

So far, there has been one reported death— a 73-year-old man died when rubble toppled over onto him, Mayor of Ponce, Mayita Meléndez, reported to the New York Times. More than 400,000 of the island's 3.1 million people may have felt strong or very strong shaking, the USGS estimated, though the entire island could have felt lesser effects. Asides from immediate physical harm, lack of electricity has serious implications for the country's most vulnerable people. Congresswoman Alexandria Ocasio-Cortez Tweeted that her, "abuela relies on oxygen, and the power outage means she's not breathing as she should."

The destruction caused damage to the two largest government-owned power plants on the island, triggering a widespread blackout and interrupting internet and phone communication. Puerto Rico's physical infrastructure has also been heavily affected as a result of schools, churches, homes and office-buildings crumbling. Local government has begun evacuating citizens to prevent injuries.

These earthquakes and the blow to the power grid and physical infrastructure hits the island especially hard, as Puerto Rico is still in the process of rebuilding after Hurricane Maria, when power was lost for months, and lack of power for medical equipment was a leading cause of death.
Because of the repercussions for last decade's natural disasters in Puerto Rico, residents are concerned with the issues that may come with recovery. After Hurricane Maria, many Puerto Ricans felt neglected by government agencies created to protect them. "The ground keeps shaking in Puerto Rico. And one of the hardest parts of going through another disaster here is knowing that our president will not respond appropriately," Tweeted Carlos A. Rodríguez, the founder of Happy NPO, a project currently rebuilding houses in Puerto Rico. So far, Trump has not commented on the disaster.