Amado Candelario grew up dreaming of becoming a Harvard student, one of the top Ivy League universities in the nation. Not a small feat, considering that only 4.5% of high-achieving applicants were accepted in 2019. But the teen, raised with his two sisters in Chicago by a single mom, was determined to make his mom proud without burdening her with debt.
To make that promise a reality, Amado took Advanced Placement courses, was a member of the National Honor Society, and co-captain of the debate team at Solorio Academy High School.

Since the sixth grade Amado would share that one day he'd attend Harvard, "there's something powerful about manifesting and verbalizing what you want and telling yourself you are capable of that," he said.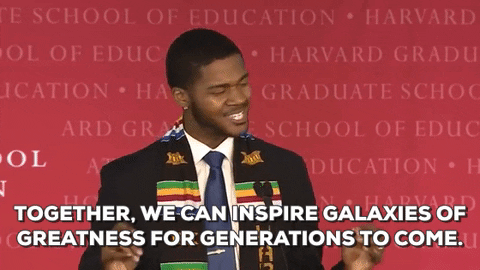 Kids who come from marginalized backgrounds shouldn't be told to "be realistic" with their goals and dreams. When he was growing up, people told Amado his goals were "too big," and some even laughed at his ambitions. But his perseverance, instilled by his immigrant mother, taught him that hard work is the key to success. 
Many have been moved by Amado's emotional YouTube video checking his status from Harvard. (Spoiler alert, he was accepted!) He was offered a full-tuition scholarship and was selected as a U.S. Presidential Scholar, one of the country's highest honors, out of a 5,200 nominees.
Amado has not declared a major yet, and has considered becoming an immigration lawyer. But he is already giving us hope, inspiration, and encouragement to dream big!