Activists across the country are urging corporations, politicians and community leaders to pick a side in the battle to stop voter restriction laws. The calls come as multiple states look to pass legislation based on lies about fraud in the 2020 election. These new discriminatory laws could deeply affect communities of color and low-income people in the U.S.
The most high-profile example is in Georgia, where the governor signed a package of restrictions described by Stacey Abrams as "Jim Crow in a Suit and Tie." Abrams helped lead mass mobilization efforts in the state, which led to record voter turnout, and brought Jon Ossoff and Raphael Warnock into office in January. Their narrow wins ultimately led to a Democratic majority in the U.S. Senate.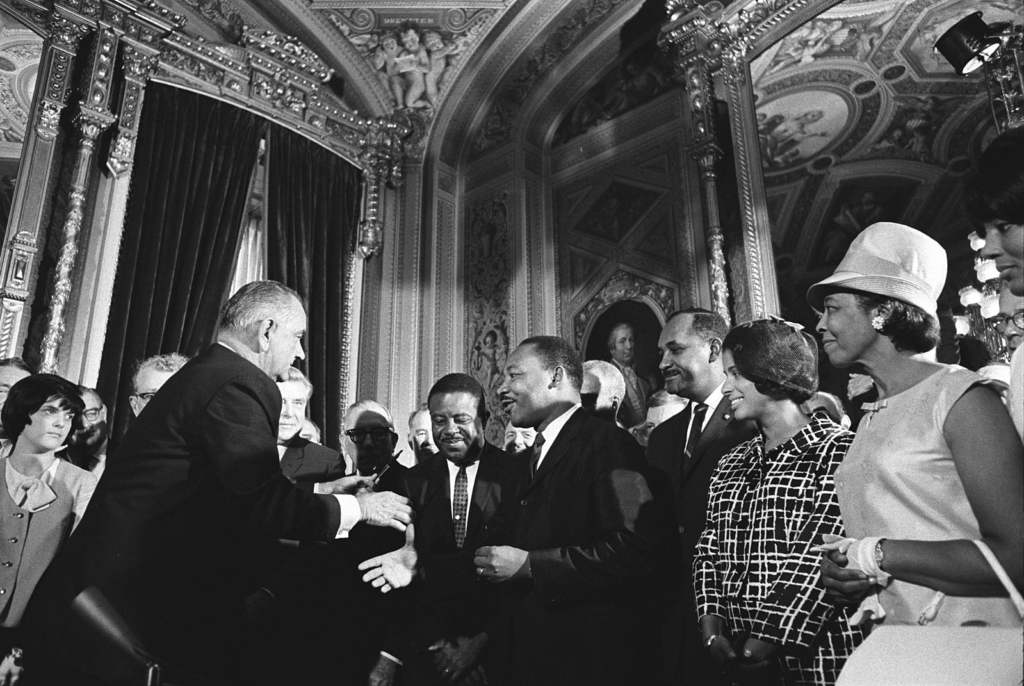 In a state where 10% of the state's population is Latino, many activists say Latino voters helped push Georgia's two Democratic senate candidates over the top.
Jerry Gonzales is the chief executive officer of Georgia-based GALEO. He said that measures aimed at restricting the vote, like having some voters wait in long lines, are not by accident. "They don't want our communities to show up to vote. They're afraid of our power," he said.
GALEO is just one of the initiatives trying to push to expand the electorate and resist voter restriction laws. For years, Latino groups, including Mijente and the Latino Community Fund have worked to send mailers, text hundreds of thousands of voters, put up billboards and infiltrate Spanish-language media. Now these groups are having to reckon with a set of restrictive legislation — not just in Georgia.
More than 250 bills across the country are finding ways to make it harder for people from marginalized communities to vote. Some of the newest waves of legislation come from states with large Latino populations, including Arizona, Florida and Texas. And community leaders are drawing attention to the issues these laws pose for newly naturalized citizens. Brian Núñez, a policy advisor for Georgia Shift, explained that voter restriction laws could be difficult for immigrants. That's because some Latinos, during the naturalization process, choose to change their name from having two last names to just one.
"Even though they would have the exact same driver's license number, your social security number, everything is correct, but because it doesn't match what they have in their system, it's being thrown out or being held," Núñez said.
Leaders have made it clear that voting rights is an existential issue worth fighting for. Judge Lina Hidalgo of Harris County, Texas, described the anxiety of many who represent communities who are getting less access to voting sites. "This isn't security," she wrote. "It's suppression."
Because of pressure from grassroots efforts and politicians, corporations — including the Coca-Cola Company and Delta Airlines — have begun taking a clear stance against the restrictive bills. As some of the biggest money makers in Georgia, they are now putting pressure on state lawmakers to roll back the restrictive laws.
Nationally, Congressional Democrats are hoping to find enough votes to pass HR1, the For the People Act. That bill aims to eliminate many obstacles to voting and voter registration across the country.
Still, even if it passes, that won't be the end of the fight, explained Myrna Pérez, director of the Brennan Center's Voting Rights and Elections Program. She expects Republicans to continue using voter disenfranchisement tactics. "I think it reflects a real fear of the browning of America and folks trying to protect what they have and keep the power for themselves."