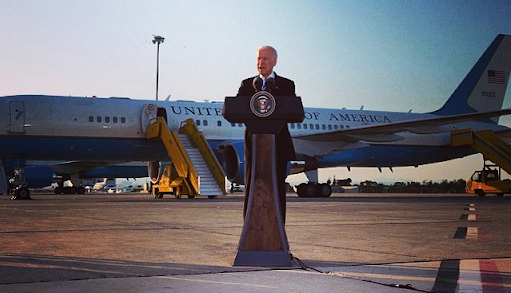 Aside from dealing with a health crisis due to the COVID-19 pandemic, Joe Biden will inherit an era of mass discontent, marked by issues like the climate catastrophe, housing insecurity, and tensions around policing and racial justice. Among those most affected by such crises are Latinos, some of whom are vowing to hold the new president accountable within his first few months in office to make certain campaign promises become concrete policies.
In his first 100 days, Biden has laid out an agenda that intends to grapple with the COVID-19 crisis along with other pressing issues. For COVID relief, he has announced a team of advisers that would lead a task force to deal with the health crisis while simultaneously pushing for immediate coronavirus legislation. Biden has a Democratic Senate and House majority, which could make coordinating coronavirus aid packages easier than last year.
Even before the coronavirus pandemic ravaged the country, immigration reform was splitting up families and hurting communities. On immigration, Biden has proposed more than a dozen initiatives for his first 100 days. While they may not all take place, the focus on immigration is important to ameliorate some of the draconian policies that were exacerbated by the Trump administration and COVID-19, advocates say.
"The incoming Biden administration has a huge responsibility to fulfill to do what past administrations have failed to do," said Jeanette Vizguerra, an undocumented immigrant who has been living in Colorado.
Biden has proposed producing comprehensive immigration legislation so that undocumented migrants living in the U.S. can have a legal pathway to citizenship. He has also pledged to stop the family separation at the U.S.-Mexico border and freeze construction on the border wall, a project to which he contributed during the Obama administration.
Because of the Obama administration's poor track record with immigration advocates, many activists are preparing to hold Biden accountable. A campaign launched by Latino advocacy group, Mijente, and nonprofit, Make the Road New York, has urged Biden not only for a blanket moratorium on deportations, but also a halt on arrests of immigrants.
They're not the only groups pushing him to implement more strict policies ahead of inauguration day. Debt Collective is a union that advocates to cancel student debt, which would in turn stimulate the economy and support low-income students.
"We delivered a win, so we need the Biden administration to deliver policy that benefits working families instead of parasitic corporations," said Denisce Palacios, a child of immigrant parents from the Rio Grande Valley. "We must constantly remind these elected officials that our well-being comes before that of their self-interested corporate donors."