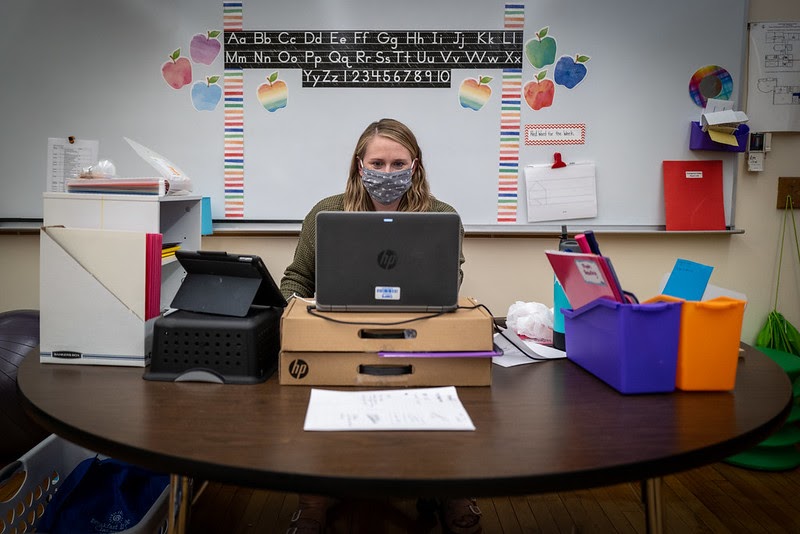 President-elect Joe Biden's pick for Secretary of Education, Miguel A. Cardona, will have an enormous set of challenges ahead of him if confirmed. Cardona, who began serving as the Commissioner of the Connecticut Department of Education last year, was announced as Biden's choice just before Christmas.
The Latino appointee comes to the job just as the nation continues to struggle with record-setting COVID-19 cases and hospitalizations and the effect that is having on schools. In some states, there is a shortage of teachers, a drop in enrollment rates, and growing concern that remote learning is widening an achievement gap that disproportionately affects Black and Latino children. In some major cities, like Washington D.C., school reopening plans have fallen apart due to disagreements between cities and school workers.
Cardona's record may give an indication as to how he will address the crisis. In his role in Connecticut, he pushed to provide 100,000 laptops to students as the pandemic crisis began. The Biden transition team says on its website that Cardona helped ensure Connecticut was the first state in the nation to provide laptops and high-speed internet to all remote-learning public-school students last year.
Cardona later advocated reopening schools in order to address the disparity in educational opportunities between students of color and white students.
Supporters of the nomination say that Cardona's experience as a 4th-grade teacher and administrator in public schools stands in contrast to the current education secretary, Betsy DeVos. The Board of Education Union Coalition called Cardona "Light-years ahead of the dismal Betsy DeVos" in a statement citing Cardona's experience in public education.
Becky Pringle, the president of the National Education Association, said of Cardona, "As a former public-school teacher, he understands what's at stake for students and promises to respect the voice of educators as we work to safely reopen school buildings, colleges, and university campuses, while also forging a path to transform public education into a racially and socially just and equitable system that is designed to prepare every student to succeed in a diverse and interdependent world."
Cardona is a Connecticut native; his parents moved to the United States from Puerto Rico as children. He said the experience of growing up as the grandson and son of immigrants taught him the value of hard work, service to others, and treating people with respect.
"It's not lost on me, the significance of being the grandson of a tobacco farmer who came here for a better life, who despite having a second-grade education was able to raise a family and create that upward mobility cycle," he told The Hechinger Report.