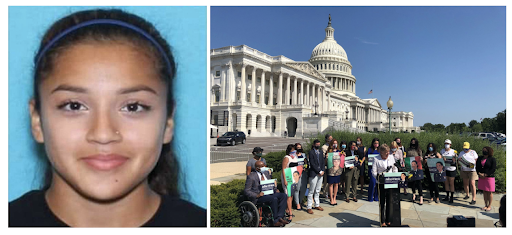 Fourteen military commanders and lower-level leaders have been fired or suspended as a result of an investigation into the death of Latina soldier, Vanessa Guillén. In April, Guillén went missing at Fort Hood Military Base and after a national campaign to draw attention to her disappearance, her body was found. This shined a spotlight on the history of sexaul assault, harassment, suicides and murder at the base in Killeen, Texas.
Vanessa Guillén's family spearheaded the campaign that garnered congressional and presidential recognition. Social media attention, protests and public art sparked stories of sexual assault as women used the "#IAmVanessaGuillen" hashtag to describe a greater phenomenon of sexual violence within the U.S. military.
The outpouring of stories cracked open accounts of other service members at Fort Hood, who have had similar fates as Guillén. A long string of suicides, homicides and criminal behavior from the base — one of the country's largest — littered the news. While the death rate at Fort Hood is not much higher than the average military base, the murder rate is. In 2020 alone, the base reported five homicides, seven suicides, eight accidents, two illnesses and five more were still under investigation as of September of this year.
The mystery behind this violence has been received differently for those connected to the families of the slain. Jonathan Harmon, a trial lawyer who served on the independent committee, described the problems at Fort Hood as "the result of years of benign neglect." Others, including Vanessa's family, put blame on the leadership. They have expressed satisfaction with the firings and are pushing for further investigation into Vanessa's line of command as well as larger reforms.
As part of the response to developments at Fort Hood, Congress will file the "I Am Vanessa Guillén Act" which Guillén's family is supporting. The legislation seeks to make sexual harassment a crime within the Uniform Code of Military Justice in order to improve response to allegations of sexual assault.
A report the army released last Tuesday recognized that there was a "permissive environment around sexual assault," on the base. Many recognize this pattern as an extension of rape culture in the military that has been testafied even before Guillén's disappearance. And while women in the military face issues of sexual assault that sometimes lead to death, Latino families have noted that they have extra barriers of communication with the Army when it comes to investigations such as Guillén's, because of cultural and linguistic differences.
While the removal of fourteen commanders also triggered new revisions to the Army's sexual harassment and prevention program, there could be more actions in the new year. Guillén's family, and the politicians, law-makers and lawyers assisting her case continue to push for broader reforms and continue drawing attention to a greater cultural issue that lead to the tragedy. At a press conference on December 10th, Vanessa's sister Lupe recognized they have been fighting since April, and said "We're going to fight for you because that's family for us."