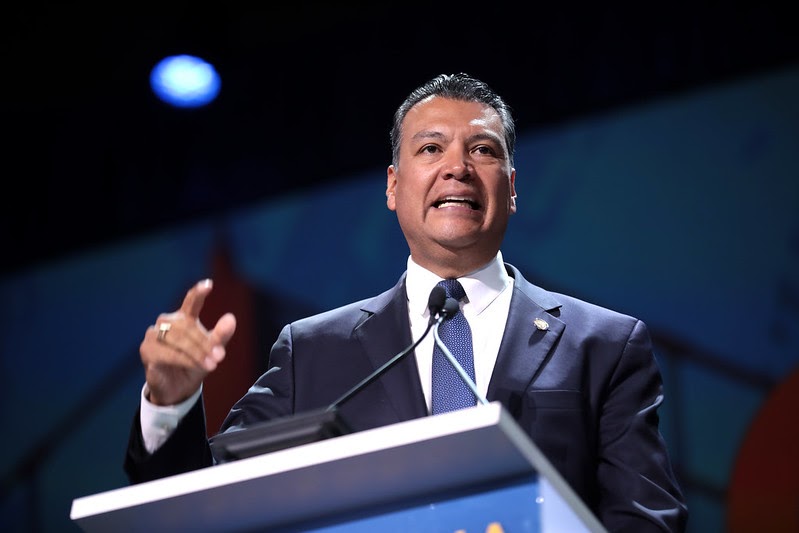 California has its first Latino U.S. Senator, Alex Padilla. On Tuesday, the state's governor Gavin Newsom chose Padilla to fill the seat vacated by Democrat Kamala Harris when she was elected vice president. The remaining term is two years.
The 47-year-old Padilla has been serving as California Secretary of State. He is a veteran of the Los Angeles City Council and served two terms in the state Senate. He was in his second term as Secretary of State when the announcement was made Tuesday.
Padilla said in a statement, "From those struggling to make ends meet to the small businesses fighting to keep their doors open to the health care workers looking for relief, please know that I am going to the Senate to fight for you. We will get through this pandemic together and rebuild our economy in a way that doesn't leave working families behind."
Padilla, who will be serving a state with a 40% Latino population, is the son of Mexican immigrants. He graduated with a degree in mechanical engineering from the Massachusetts Institute of Technology and was elected to the L.A. City Council at the age of 26. In the California state Senate he championed several initiatives for green energy and more widespread broadband internet deployment. Padilla credits his engineering background for his ability to help solve large-scale problems.
Groups including the Latino Victory Fund praised the choice, calling Padilla's appointment, "a long-overdue milestone for the Latino community." Nathalie Rayes, president and CEO of the group, said, "His appointment will not only increase Latino representation in the Senate, but it will also open the door for future generations of Latino leaders."
The Senate currently has four members who identify as Hispanic-American including Republicans Ted Cruz of Texas and Marco Rubio of Florida, and Catherine Cortez Masto of Nevada and Bob Menedez of New Jersey. Ben Ray Luján, a Democrat from New Mexico, was elected to the Senate and will start his term in January alongside Padilla.