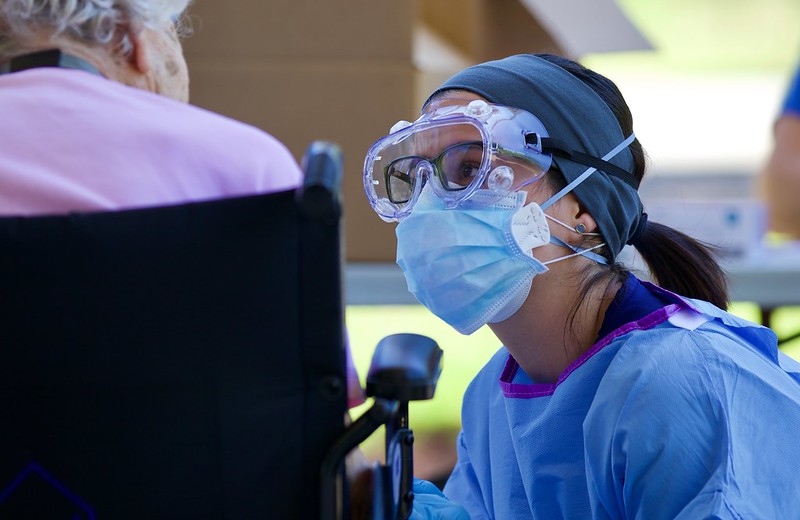 Latino front-line healthcare workers, especially nurses and doctors, are feeling the strain of battling COVID-19 cases for more than six months.
These essential workers say the emotional toll of caring for patients with the coronavirus and seeing the virus decimate Latino communities disproportionately has created trauma. The long-term effects of that trauma is not yet known; but front-line medical workers are seeing a 60% increase in emotional exhaustion and burnout since the pandemic started, according to one study published in June.
Experts say these workers need mental health care support, proper protective equipment at work, and enough time to recover from their difficult work shifts.
"What I'm seeing now is the patients are coming in sicker and they're taking longer to recover," said Mary Juarez, a registered nurse at Good Samaritan Hospital in Los Angeles. The nursing veteran of 20 years told ABC News, "The death has been… one of the hugest life-changing events for me. There was a period in this pandemic when we were putting patients in body bags once a shift. Not once every 24 hours, but once a shift. Day shift, night shift."
For Latino medical staff, it has also been difficult to deal with seeing increasing numbers of Latino and Black patients hit with COVID-19. In a September medical briefing, infectious disease expert Dr. Anthony Fauci said that nationwide, hospitalizations among Latinos was 359 per 100,000 people compared to 78 among whites. Deaths related to COVID-19 are 61 per 100,000 Latinos compared to 40 in whites. And among those under 21, Latinos represent 45% of COVID-19 deaths.
Those numbers are what Juarez says she's seeing on the front lines. "It's generally seen mostly in the Latino population, so of course, I am very, very aware of that… My anxiety level is 100% more. My anxiety begins a day before going to work."
Through such a tremendous emotional burden, some nurses and doctors say they are glad they are doing the job despite the hardships. Dr. Dinora Chinchilla, a pulmonologist in Los Angeles County, said she has dealt with many cases of COVID, mostly with patients who are overweight, diabetic, and Latino.
"Seeing how disproportionately COVID has affected the Latino community and being able to be that person for them now is what I always wanted," she said in an interview with KPBS. "But that comes with a big burden."