During Hispanic History Month in 2019, a principal painted over the "Farm Worker Migrant Mural" at an elementary school in Los Angeles, without any warning.
Brenda Perez believes the principal covered the wall to make the school more open to "the new (White) magnet students".
Murals that tell the history and culture missing from our textbooks are being covered up, as Los Angeles neighborhoods like Highland Park (where Brenda is from) develop. "Gentrification is so strong. I don't see brown people passing by my house anymore," she says.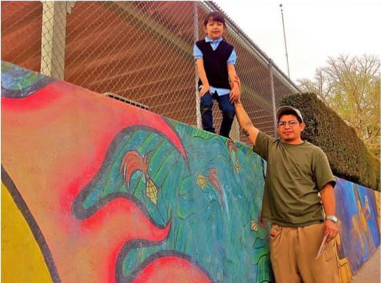 Murals educate our children because they allow us to remember our ancestry, and Brenda recognizes that white-washing this history harms us and contributes to collective trauma. 
She organizes a community group that visits murals under threat of destruction, to protest and do blessings with indigenous ceremonies and dance.
In order to heal the erasing of culture, Brenda wants to practice "restorative justice," by addressing this collective trauma through community dialogues. 
But, she says, for that you need accountability, which does not exist. 
This group is powerful because it brings people of all generations together to defend our art. "What protects a mural more than anything is the power of community," she says.