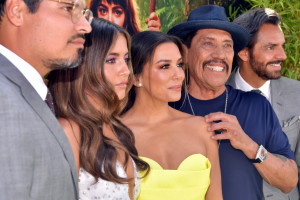 In 2019 it's still rare to see a Hollywood summer flick targeted at Latinx families, let alone with an all-Latinx ensemble cast. But that disheartening trend may be changing now that Dora and the Lost City of Gold hit theatres nationwide 🍿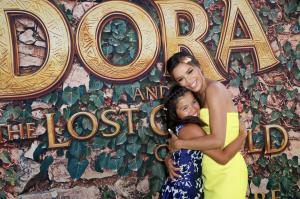 Based on the near 20-year-old animated Nickelodeon show, Dora the Explorer, the movie brings to life a show that centered around empowering preschool Latinx kids and normalizing bilingualism. The big screen production re-imagines young adventurer Dora as a teenager, but keeps her signature bob haircut, pink shirt and purple backpack.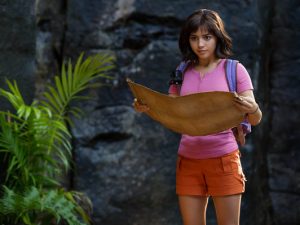 Dora, played by Isabela Moner, is on a mission to find lost treasure in the fictional lost Inca city of Parapata, located in the Amazon rainforest. Eva Longoria and Michael Peña portray her parents, Danny Trejo voices Boots and Benicio Del Toro voices the main antagonist Swiper the Fox. Mexican actor Eugenio Derbez serves as executive producer and actor. 
Eugenio says Dora is an icon for kids, especially now that Latinxs are being "harassed by President Donald Trump's administration." Isabela said the movie is an action-packed mix of Tomb Raider meets Indiana Jones. This family-friendly movie is breaking the mold and encouraging Hollywood to keep giving our children positive role models who look like them on the big screen.